"As long as there is sea there is bread." – Michele Autuori
Salerno is strategically located and must have an important port." – Michele Autuori
From these visionary ideas, Michele Autuori managed to expand his activities in the Mediterranean thanks to his experience of mercantile cabotage between ports in Sicily and throughout the southern bourbon, and the advent of the first steamships.
The company was founded in 1871 by Michele Autuori, born in Cetara, a small village in the province of Salerno. Michele Autuori Shipping & Forwarding Agency, among the oldest in Italy, always has been managed by the Autuori family in Salerno; and works with their services in the maritime transport sector for the army, trade and industry. Maritime transport competence combined with great attention to necessary investments for the development of port infrastructures, provide the solid background on which the company is founded and on which it based its growth.
Since World War II the company combined commitment and Michele Autuori, he was born in 1900, with the Salerno port expansion thanks to tireless partnerships among politics, journalism and essay writing.
Today's port structure expansion, completed at the beginning of the 1980's, resulted in availability of new areas. These provide basis for current great trade development, consolidating the importance of the port in shipping business, and development in maritime transport, as well as providing international and local companies, as advocated in many essays and by Michele Autuori.
The port of Salerno development still is followed with same passion and commitment from fifth generation Autuori family members. The family remains aware of the enormous importance of an adequate strategic and functional infrastructure for current port business that also contains solid foundation for future prospects.
"Our strengths remain the vision of sea as an unequalled resource for social, cultural and economic development." - Michele Autuori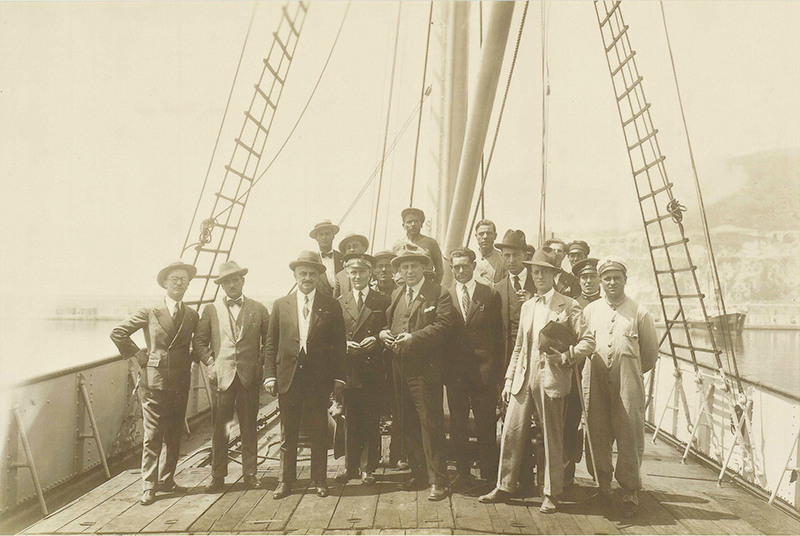 "The sea unites, does not divide." - Ferdinando Autuori
Legacy and Vision in Autuori Family Fifth Generation
"The sea unites and does not divide," said Ferdinando Autuori, Michele Autuori President, and current Autuori family latest generation, who, with his sisters Antonia, CEO, and Lucia, Sales Manager, is actively engaged in the shipping business. It is heritage of expertise that Michele Autuori, Società a Responsabilità Limitata (SRL), ships goods from the port of Salerno to most important Mediterranean and international destinations, providing all the services linked to maritime shipments as insurance of goods, customs services and consulting, assistance and advice, budgeting and customs forms, compile shipping, cost optimization, import-export assistance.
"The value is the customer and is a truth relation".
Michele Autuori SRL provides safety and a relationship of trust to its clients in the form of service quality, operational capability, and as an increasingly reliable partner for operators of Central and Southern Italy, and beyond. Customer focus, confidence, skill, and knowledge of operations, and available routes make  Michele Autuori a reliable partner for the shipment of goods by sea container freight door to door and rolling stock, special and conventional goods, to almost every part of the world.
Many destinations are served regularly for shipments from/to Salerno, including the main lines: Grimaldi Euromed southbound: Piraeus (GR); Izmir (TR); Limassol (CY); Ashdod (IL); and Alessandria (EY). Grimaldi Euromed northbound destinations include: Savona - Setubal (P); Portbury (UK); Cork (IE); Esbjerg (DK); Wallhamn (S); Antwerp (B); and Southampton (UK). Other Grimaldi services include short sea shipping weekly to Malta, Tunis and Palermo; three times a week to Valencia; daily boat service Salerno Catania. Weekly departures include those to ports of: Dakar (Senegal), Abidjan e San Pedro (Ivory Coast; Cotonou (Bènin); Lagos - Tincan Island (Nigeria); Luanda (Angola); Matadi (Democratic Republic of Congo); Pointe Noire (Democratic Republic of Congo); Libreville (Gabon); Douala (Cameroon); and Lomè (Togo).